31 December 2022
Once you're engaged, you instantly get hit with a million ideas about what you want your wedding to be and to look like. It feels impossible to decide on just one theme or idea. One of the coolest themes to use for a wedding, though, is Winter Wonderland. A winter wedding can be so incredibly beautiful. There are so many ways to do it and lots of options. You can be sure that your winter wedding will be completely different from anybody else's. So, whether you can't pick a theme, or you've already settled on Winter Wonderland, take a look at these brilliant winter wedding ideas.
Choose a suitably wintery venue
Choosing your wedding venue is a huge decision. And it is one of the first things you should be thinking about. If you know that you want to have a Winter Wonderland wedding theme, or you're toying with the idea, you need to pick a venue that fits that idea. Somewhere that is customisable and has outside space that will let you and your guests see the wintery weather. And somewhere that is still incredibly beautiful and magical. Like Venachar Lochside, our Scottish wedding venue on the banks of Loch Venachar.
Your ideal winter wedding venue should be minimally colourful (white walls will make the winter theme much easier). It needs to be customisable, maybe even rustic. And it should have incredible scenery around it that, come the winter months, will look fierce and beautiful enough to match you and your partner's vibes. Take a look at our Winter Wedding package and chat with our team if you'd like to have a look around our stunning venue.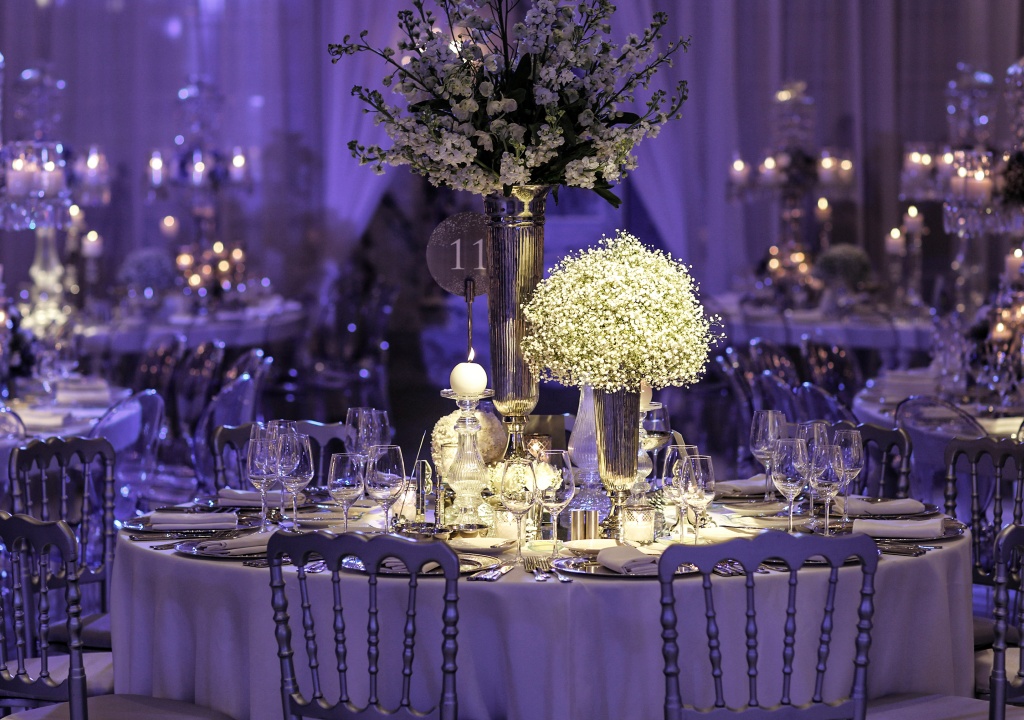 Pick your colours carefully
There has been a trend recently of bright, vibrant weddings. They are beautiful, but if you're looking to have your wedding Winter Wonderland-themed, a more monochrome look can sometimes work best. White and black is simple, elegant, and classy, and will push that wintery feel. Plus, if you have a venue with lots of windows when the vibrant colours of the sunset push through in the evening, you'll have a gorgeous contrast!
Alternatively, if you do want to add a splash of colour there are a few ways to do it. You can either stick to cool tones like blue or maybe golden yellow for some fairy lights to make a cosy, cool feeling atmosphere that feels almost like entering a magical igloo (think Elsa in Frozen). Or, if that's not what you're after, you could lean into the almost Christmassy aspect of winter and use warmer jewel tones in your wedding. These pair well with dark greens and would allow you to have a bit more foliage at your wedding. The overall look will be more like a secret forest in winter than a land of snow and ice. You'll get loads of ideas for colours, decor and more on Pinterest and by searching on the internet.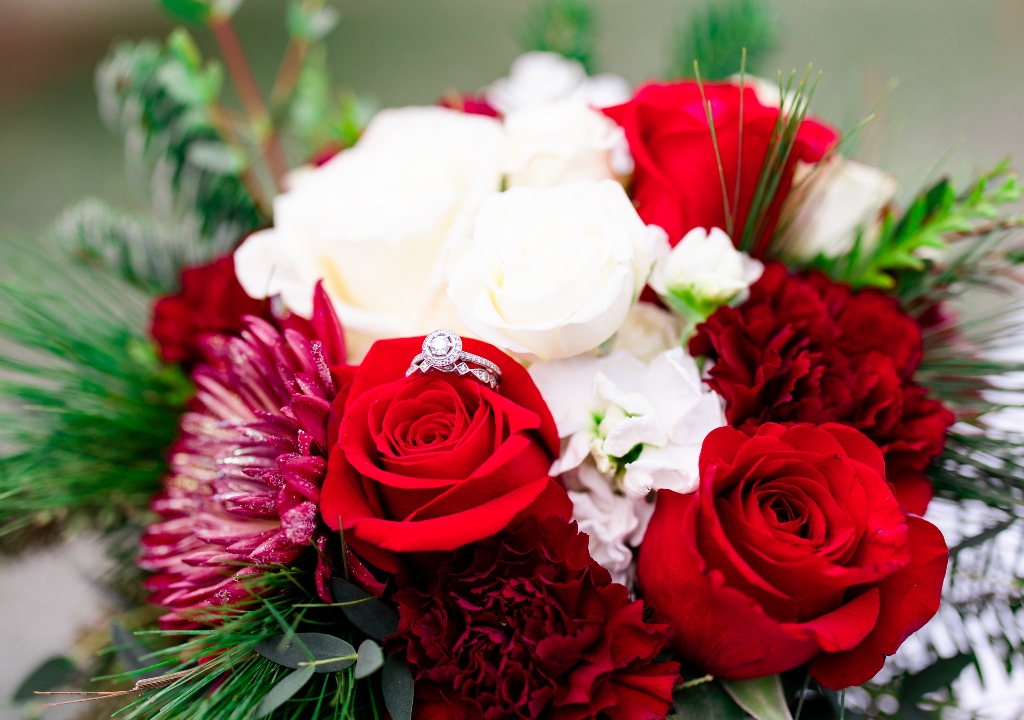 Lighting is your best friend
When you think of winter, lights on the Christmas trees, the candles – your wedding should be just the same. A Winter Wonderland wedding will need plenty of lights. Not only to help it fit the theme but because it'll get darker earlier outside!
Things like fairy light curtains behind the altar, candles up the aisle, lanterns on the table, or even personalised neon lights on the wall. Lights can make such a difference to the atmosphere and overall look of your wedding. These lighting choices can turn your wedding from a plain white party to a sparkling Winter Wonderland and will help to enhance the cosiness that comes with the winter theme.
Get customised outerwear
Winter weddings are, obviously, not the warmest events. That is especially true of winter weddings that are taking place in stunning outdoor venues like ours! If you have opted for an outdoor venue to benefit from the gorgeous scenery, you'll need some outerwear for your wedding day. That's not to say you should go and grab a sweater from Primark, though! Your winter wedding outerwear should be just as special as your dress, shoes or suit!
There are a few ways to make your jumper or coat feel incredibly important; you can either splurge on a fancy jumper, coat, or jacket that perhaps you've been eyeing up for a while (so long as it matches the wedding theme and colours!) or you and your partner can opt for some customised outerwear. Knitted shawls or leather jackets work well for this. You can get designs painted on the back of your jacket or knitted into it with "Mr" or "Mrs" and the date of your wedding. That way, as well as your dress, you have a special jacket to commemorate your special day!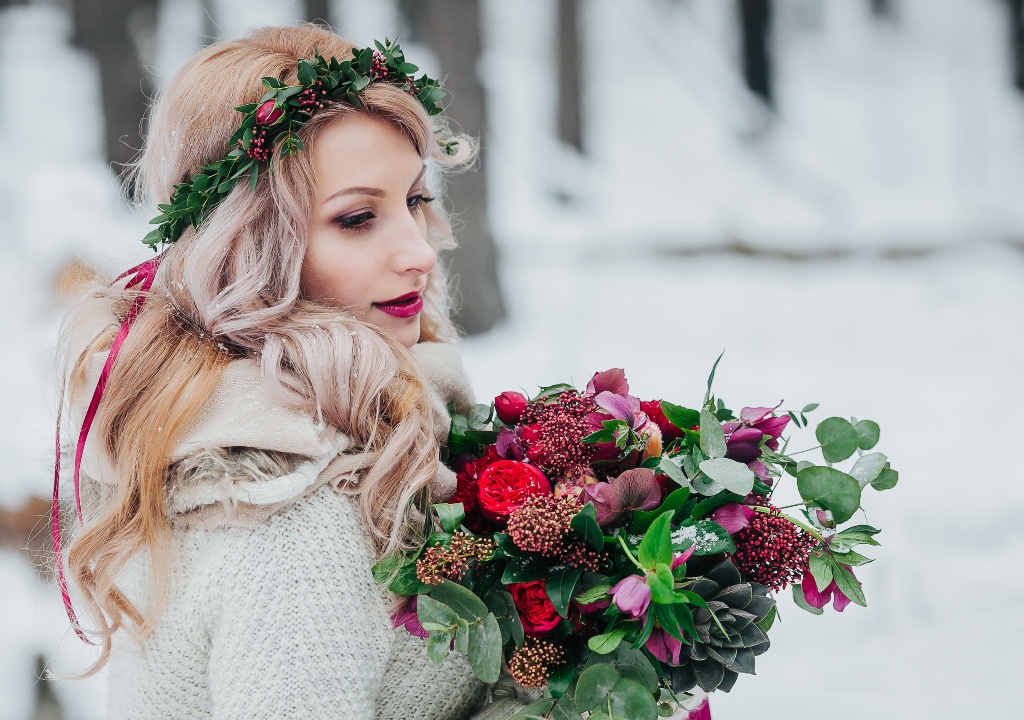 Sparkle, sparkle and more sparkle
Winter and sparkle go hand in hand, whether you're thinking about Christmas, New Year's Eve, Chanukkah, or any other winter tradition – they all feature lights, candles, and sparkles! So for your Winter Wonderland wedding, bring out the sparkle!
You can get glitter balloons, crystal centrepieces, sparkling bridesmaids' dresses, makeup, shoes… The list goes on! Between your sparkles and your lights, you can create an amazing juxtaposition between the moody, cool weather outside and the warm, loving, and magical atmosphere inside.
Contact Us