31 December 2022
Wilderness weddings are becoming increasingly popular for couples who want to do something extra special for their wedding. Especially when couples want to reduce their day's impact on the environment. But what are wilderness weddings and how do you plan one? Read on to find out more …
What are wilderness weddings?
Basically, wilderness weddings are outdoor celebrations that embrace the natural beauty of their location. Perfect for couples who dream of a wedding with breathtaking views, in peaceful surroundings, using nature's bounty to create a magical day. Wilderness weddings lend themselves perfectly to smaller, more intimate events.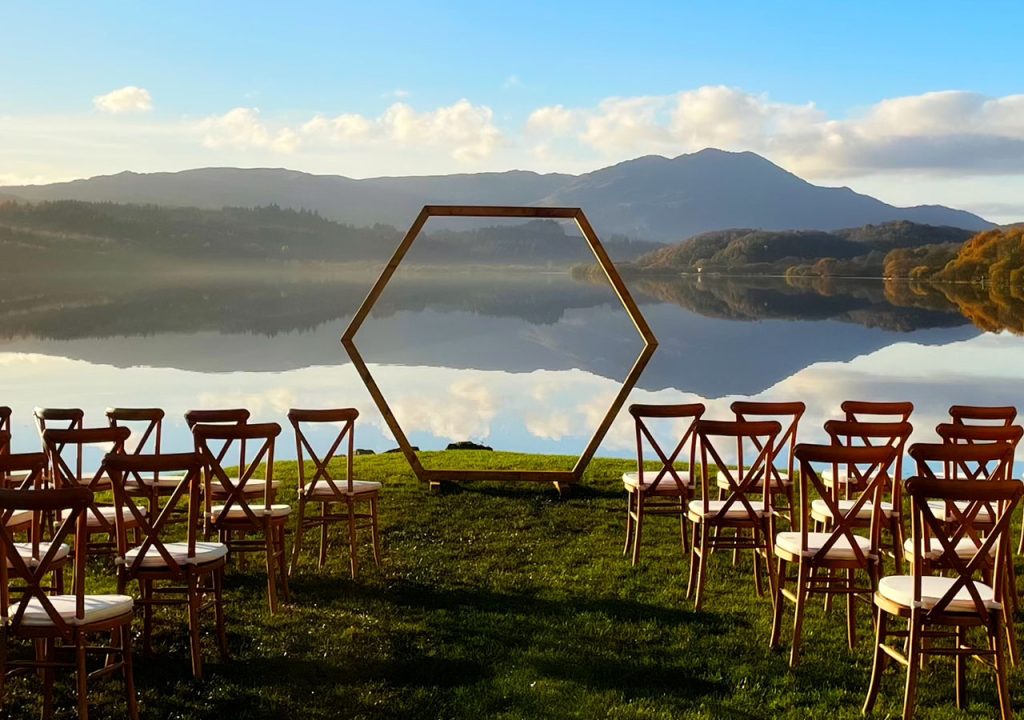 This wedding style needs to be held in a private, rural location that affords picturesque views and a rustic feel. The ceremony and celebrations are all held outside. Wilderness weddings focus more on the experience of the day, stripping back on the unnecessary 'stuff' that normally comes with a wedding. Think tranquillity, peacefulness and a relaxing vibe.
Venachar Lochside in Scotland makes a fabulous venue for wilderness weddings with uninterrupted views across the loch, our outdoor ceremony space and a beautifully rustic venue.
Planning for wilderness weddings
Wedding planners
If you are using a wedding planner, make sure they have experience with planning an outdoor wedding. If you haven't thought about using a wedding planner, it might be a good idea. They can liaise with your suppliers to make sure the infrastructure they need is in place without you having to worry about it.
If you decide a wedding planner isn't for you, then when you book your suppliers, make sure they are aware you are planning an outside event. You'll need to ask if they need electricity and whether the location can support that. If not, you may need to think about a generator etc. They may need somewhere to prep. Ask if they supply that themselves or if it's something you need to think about.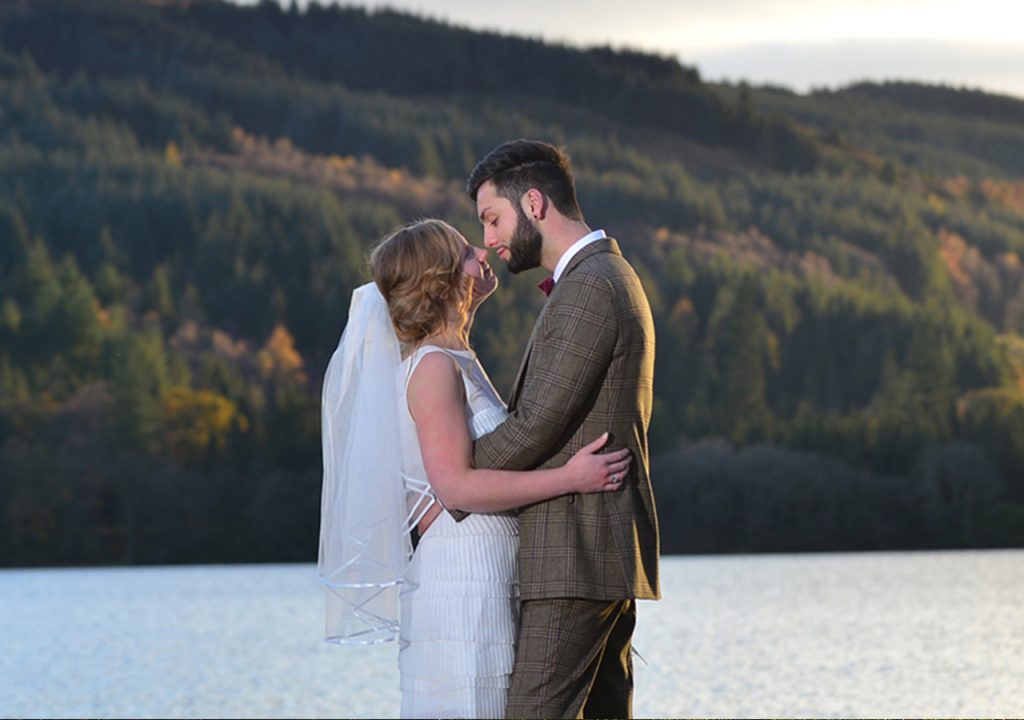 The weather
The first thing to consider for a wilderness wedding has got to be the weather. You and your wedding venue will need to have a contingency plan in place if the worst happens weatherwise. You'll be able to keep your eye on the forecast, but making sure your venue has an indoor space that can be utilised is a good idea. Or, how about having a tent company on standby? If the weather is good and you don't need it, you'll lose your deposit but, better than having no options available. Or, if you are already planning on using a tent, ensure you reserve the side walls, even if you think you might not need them.
At Venachar Lochside, we have both outdoor and indoor spaces. So if the weather forecast is looking wet, we can set up inside instead. Our indoor venue has large windows overlooking the loch, so you will still have a strong connection to the wild location.
Uninvited guests
Depending on the time of year, you may also need to think about protecting yourselves and your guests against flying and biting insects. Especially if you choose a venue close to water. Citronella candles are great. Bugs don't like the smell they give off and they will help add a dreamy, candlelit vibe to the evening. Potted lavender is also a great choice. Again, it will help deter bugs and will smell heavenly.
You could add basil to your table decorations, again, it will smell and look beautiful. Another trick is to burn coffee grounds. Add some to a small, fireproof plate and let it smoulder somewhere safe. The smoke keeps the bugs away naturally.
The décor for wilderness weddings
The decorations used for wilderness weddings can really reflect the natural, relaxed vibe you are going for. Using local flora will bring the whole look together. Some venues, like Venachar Lochside, will even forage for the decorations and bridal flowers for you. If you are getting married near a beach, you could comb the beach beforehand for driftwood and shells. For a woodland theme, fallen branches, leaves and moss can all be incorporated. If your chosen venue is a meadow, wildflowers are perfect. Just make sure you leave some behind and are mindful of your environment when you are foraging.
Let your guests know
Tell your guests that your wedding is being planned as a wilderness wedding so they can dress accordingly. For example, if the location you choose is all grass, stilettos will be problematic. You won't want your guests' heels sinking into the grass while they are standing for photos or socialising. Or the evening may warrant a coverup, even in the summer. But with the right attire and planning, a wilderness wedding will make it a day to remember with gorgeous memories to cherish.
If you would like to find out more about a wilderness wedding here at Venachar Lochside, we would love to hear from you. Give us a call and book a viewing. We know you will be blown away by the beauty of the loch and surrounding scenery!
Contact Us